Rainier Power Screens Are There When You Want Them; Away When You Don't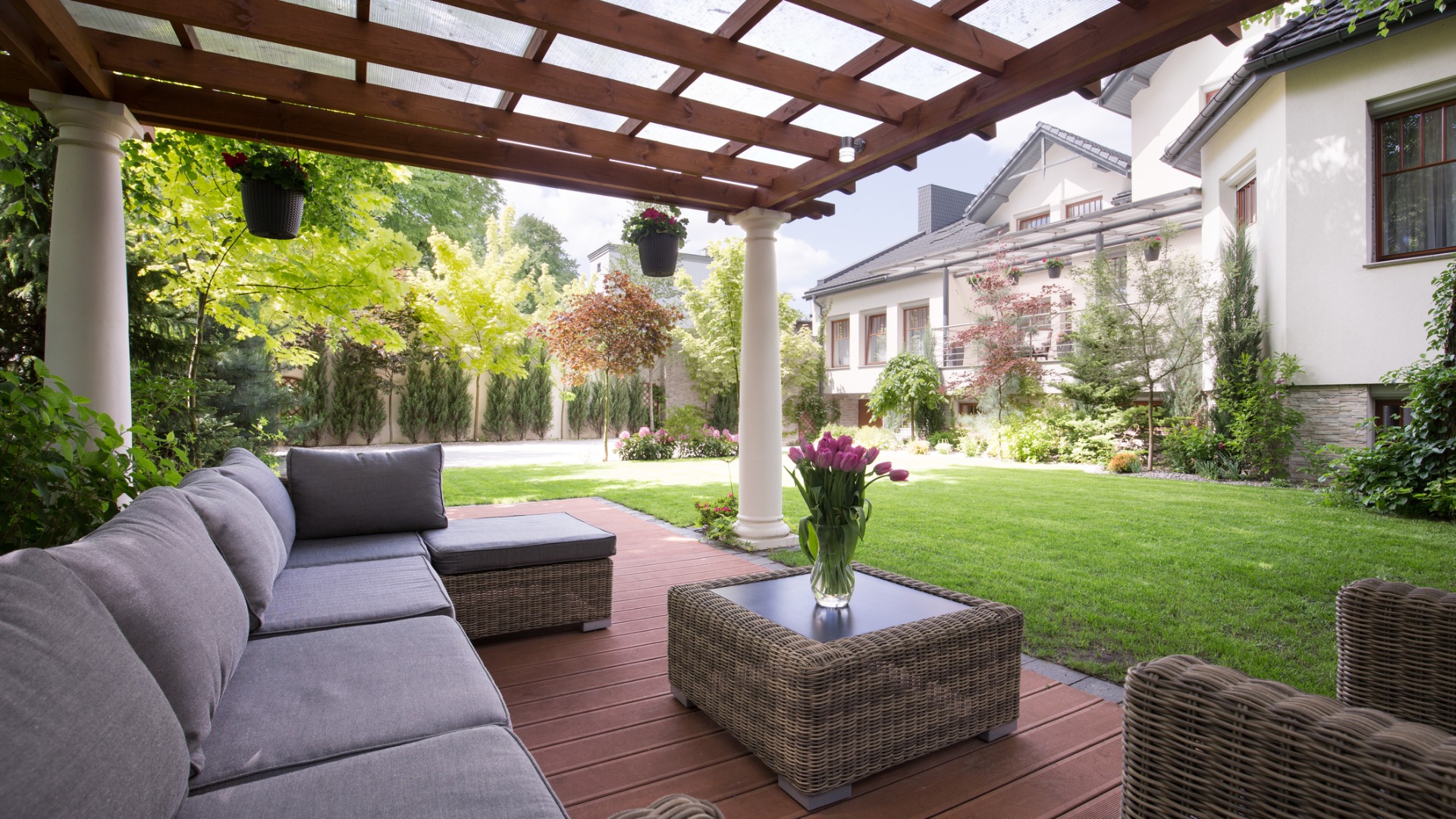 Adding a power screen to your home or business is a wonderful way to get more use and enjoyment from your outdoor space. A fully automated screen can create an additional room in seconds.
Rainier Power Screens for the Home
A lack of privacy can deter homeowners from enjoying their outdoor space. So can bugs, the hot sun, wind, precipitation, and cold temperatures. In many places in Canada, there are very few months when we can comfortably relax outside. Rainier Power Screens are an easy way to add an extra room outdoors. They give you the flexibility to choose the level of wind and solar protection and the privacy you prefer for your space. There are hundreds of mesh and fabric options available, with multiple colours and densities to meet your needs. You can block the elements and, at the same time– keep the view.
Your deck, patio, freestanding gazebo, garage, she-shed or workshop can become a new space to connect the indoors with the outdoors. Your walkout or California room can become a more welcoming and comfortable space. Say "yes" to fresh air and "no thank you" to discomfort.
Imagine warmer autumn nights and cooler summer days–even winter days—with the warmth of your fireplace or heater. You can easily improve the quality of life you enjoy at home when you add a Rainier power screen.
Rainier's motorized screens feature top-of-the-line Somfy technology. Somfy is the industry standard in smart home automation, often found in motorized blinds, awnings and screens. They are operated by remote control and incorporate obstruction detection for safety. They are quick and quiet to use, meaning you can create an outdoor room in seconds and put it away when you're finished.
Rainier Power Screens for Commercial Use
Patio season is one of the delights of our Canadian summers. But the season is short, and there are still bugs, hot sun and wind that customers have to put up with. A Rainier Power Screen is readily adjustable to the direction of the sun and wind. Your customers can enjoy the outdoor dining experience in comfort.
Adding heaters or a firepit to extend your patio's use into the shoulder seasons? Rainier Power Screens will prevent wind from driving off the heat, creating a comfortable and unique outdoor experience.
Rainier Power Screens also offer the ability to print your logo or image onto the mesh, promoting your brand's identity and recognition. Each screen is custom-built to your specifications, with standard sizes available up to 25 feet wide and 16 feet high. Need a longer screen than that? With its specialized dual system, a span of up to 40 feet can be fitted with a Rainier Power Screen.
Restaurants, cafes, public outdoor spaces, day homes, preschools, workshops, and garages–there are so many opportunities to give clientele and employees a healthy place to live and work with a Rainier Motorized Screen.
What Sets Rainier Apart from the Competition?
There are several power screen options available in the Canadian market. So, what sets Rainier apart?
Rainier's low-profile housing in 3 sizes (3, 4 or 5 inches) is smaller than the industry standard of 5 to 7 inches without compromising structural integrity. Rainier Power Screens also offer a choice of either square or round housing to best fit your aesthetic preference.
Rainier Power Screens come with an engineered Teflon track system that securely anchors and protects the zipper guides. This track system keeps the mesh taut and secure even in high winds. The mesh is protected, and you won't see any sagging or "smiling" ripples in the corners. All you will see is a screen which has been custom fitted to your opening and which operates cleanly and smoothly for years to come.
The mesh tubes are also engineered to prevent ripples in the mesh. They are designed to resist flexing downward with the weight of the mesh. These tubes, paired with the housings, give Rainier Power Screens multiple levels of structural integrity across spans of up to 25 feet.
The hem bar at the bottom of the mesh (the bar that slides up and down) features an incorporated nylon collar that extends into the zipper guides at each side of the screen. The mesh is held securely in place and is not subjected to wear and tear because it never touches the guides. Traditional screens are vulnerable to wear at these points. The hem bar also comes with several options for weather stripping along the base.
A favourite feature of Rainier Power Screens is the self-cleaning brushes in the housing. Customers appreciate not finding bugs and debris on their mesh as it unrolls! The self-cleaning system also deters unwanted visitors, such as bats, from making homes in the housing.
Metal zippers (not plastic) and ultrasonically sealed seams are additional quality features that allow Rainier screens to provide years of trouble-free use. As well, Rainier automated screens are manufactured entirely in the United States–made to your specifications before being powder coated as a unit. This means there are no cut ends exposed to the elements.
How do I Find Out if a Rainier Power Screen is Right for My Space?
Finding out if a Rainier power screen will work for you is simple. Call us today at Screen Experts or send in a quote request. Our installers will contact you and set up a time to consult with you about your design ideas. They will bring a portable screen to demonstrate the Rainier screen features and will explain the options for mesh and housing. See for yourself if a Rainier automated screen is right for you
At this no-obligation, free consultation, our installers will also take careful measurements of your space. If and when you decide to proceed, they will place an order for your custom-built screen. Once it has arrived, we will set up a time to come and install it, and you can begin to enjoy your new and improved outdoor space