Can I Install A Retractable Screen On My Patio Slider?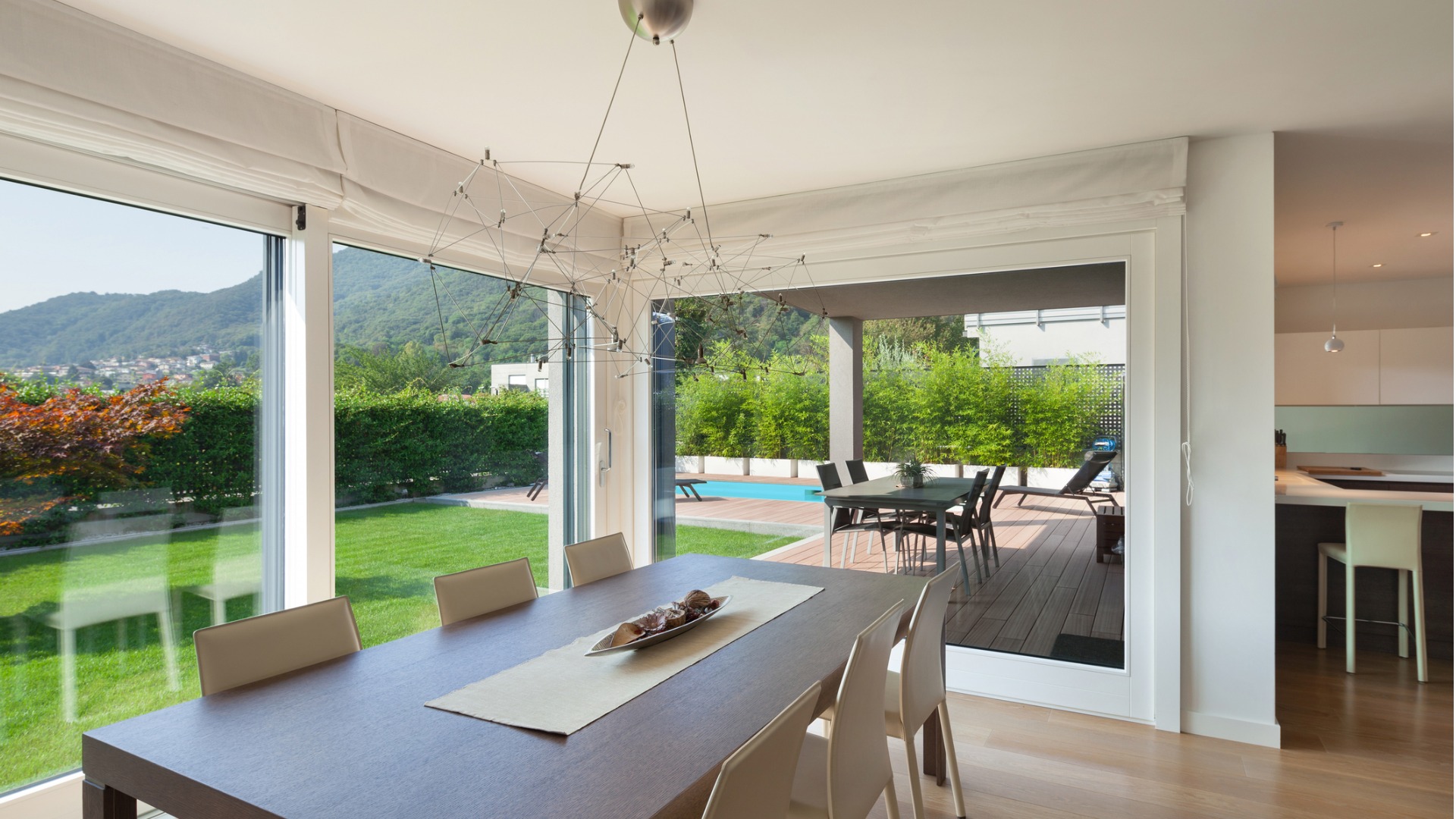 Patio sliders, patio screen doors, patio doors, door walls, sliding screen doors, sliding doors– there are many names for this popular element in many homes. These large openings are made up of multiple panels of glass. Some may be fixed, and some slide across, creating an access doorway to the outdoors.
They're often found leading to a deck or a patio, and they make a wonderful transition between spaces. In North American architecture, these doors have steadily grown in popularity over the last century–to the point where they seem more a necessity than a luxury in home design. And for good reason. All that natural light and fresh air really do make a difference in the home.
Benefits of Retractable Screens
Passive Daylighting
This involves using natural light (from windows, for example) to make your home more energy efficient. It's not just good for the environment, though. It's also good for your health. Our mood and productivity can be boosted when we have access to natural light. It is no surprise that, as humans, we tend to gravitate to sunlight. It's not just our furry companions who benefit from lying in a sunbeam from the window!
Sense of Being Closer to the Natural Environment Outside
Natural daylight is also good for sleep and activity, according to a study published in the Journal of Clinical Sleep Medicine.
At Screen Experts, we understand that our customers are motivated to create healthy, safe, and beautiful spaces to live and work in. One of the most prevalent wishes our clients express is for a seamless transition between indoor and outdoor spaces. And no wonder! We live in the middle of fantastic natural beauty. It isn't always easy to live in harmony with the natural world around us, especially when our urban spaces have not historically made that a priority.
That's why we love what we do. At Screen Experts, we are in the business of promoting healthy spaces. Whether you need a retractable screen, a power screen, a security screen or a screen for your sliding door, we love to provide a great product and customer experience. We leave you with a top-of-the-line, quality door that will make your space a healthier and more beautiful place to be.
Fresh air
According to a study Health Canada published in March 2018, Canadians spend 90% of their time indoors! The quality of our indoor air is incredibly important. One of the easiest ways to decrease indoor polluted air is to open screened doors and windows. Many places in Canada still enjoy fresh, clean air outdoors for much of the year. It might not be applicable at minus 20 degrees Celsius, but when the weather permits, let the fresh air in!
Can You Put a Clearview Retractable Screen On Your Patio Slider?

And what if there is already a screen in place? What if your current screen needs fixing or replacing?
Yes, you can (almost always) put a Clearview retractable screen on your patio slider!
As long as the sliding door unit is in good condition, a retractable screen works seamlessly even when there was previously a framed mesh screen. A Clearview Retractable screen installed on a sliding door will be measured and custom-built to fit the opening perfectly. We bring many years of expertise to installing retractable screens on sliding glass doors.
Do Screen Experts Provide Sliding Screen Door Repair?
Some customers may want a mesh replacement for their original framed mesh screen. In some cases, a window or glass company may be able to help you with that. This is most practical when you have the original frame, in good condition, for the new mesh. There are "one size fits all" replacement screens from big box retailers, which include both mesh and frame, though often these do not fit well. Many customers in these situations have found a great solution in a Clearview Retractable Screen by Screen Experts.
The Process
When you contact Screen Experts, our staff will provide you with a professional, detailed consultation in your home or business. In this free, no-obligation consultation, you can try for yourself the Safe Glide operation of a Clearview Retractable screen (in a portable frame). You can select the colour of housing and the type of mesh that works best for you. You can choose our most popular option of reinforced mesh edges and/or pet screen (super screen) for more boisterous furry friends.
Advantages
A Clearview Retractable Screen on a sliding glass door is a great upgrade. As Canadians, we love fresh air–but we also love a bug-free indoor space. With a Clearview Retractable Screen, you get the benefit of a screen door as well as a clear and unobstructed view of the outdoors when your screen is not in use. It's easier to clean a sliding door unit without an ever-present mesh in the way. Dust and debris are less likely to become trapped in the frame (though it is a good idea to occasionally clean the track of your retractable screen to keep it running smoothly).
For expert tips on how to keep your screen clean, read our blog: 6 Pro Tips to Maintain Your Clearview Retractable Screen & Keep Them Sliding Well. And keeping your retractable screen closed in its housing when not in use (definitely best practice) is a great way to keep it clean and damage-free.
As usual, a Clearview Retractable Screen comes with our patented Safe Glide (soft close) technology. Meaning you don't have to hold the screen as it retracts to prevent it from snapping back. You can have a hand free for the platter or beverage you are carrying through the door. Our exclusive speed-reducing damper is the only one on the market, and it's backed by a lifetime warranty. It's one of our most frequently sought-after features, and it comes standard on all Clearview Retractable Screens.

At Screen Experts, we pride ourselves on having a screened solution for almost every entry or area imaginable. From your beautiful front door to your garden, patio, and recreational spaces, if you can dream it, we want to help you make it a reality. Feel free to contact us with any questions, and we'll work with you from consultation to installation of the screen door that is right for you.