OH SNAP! How the ClearView Retractable Screen Will Increase Your Outdoor Enjoyment This Summer.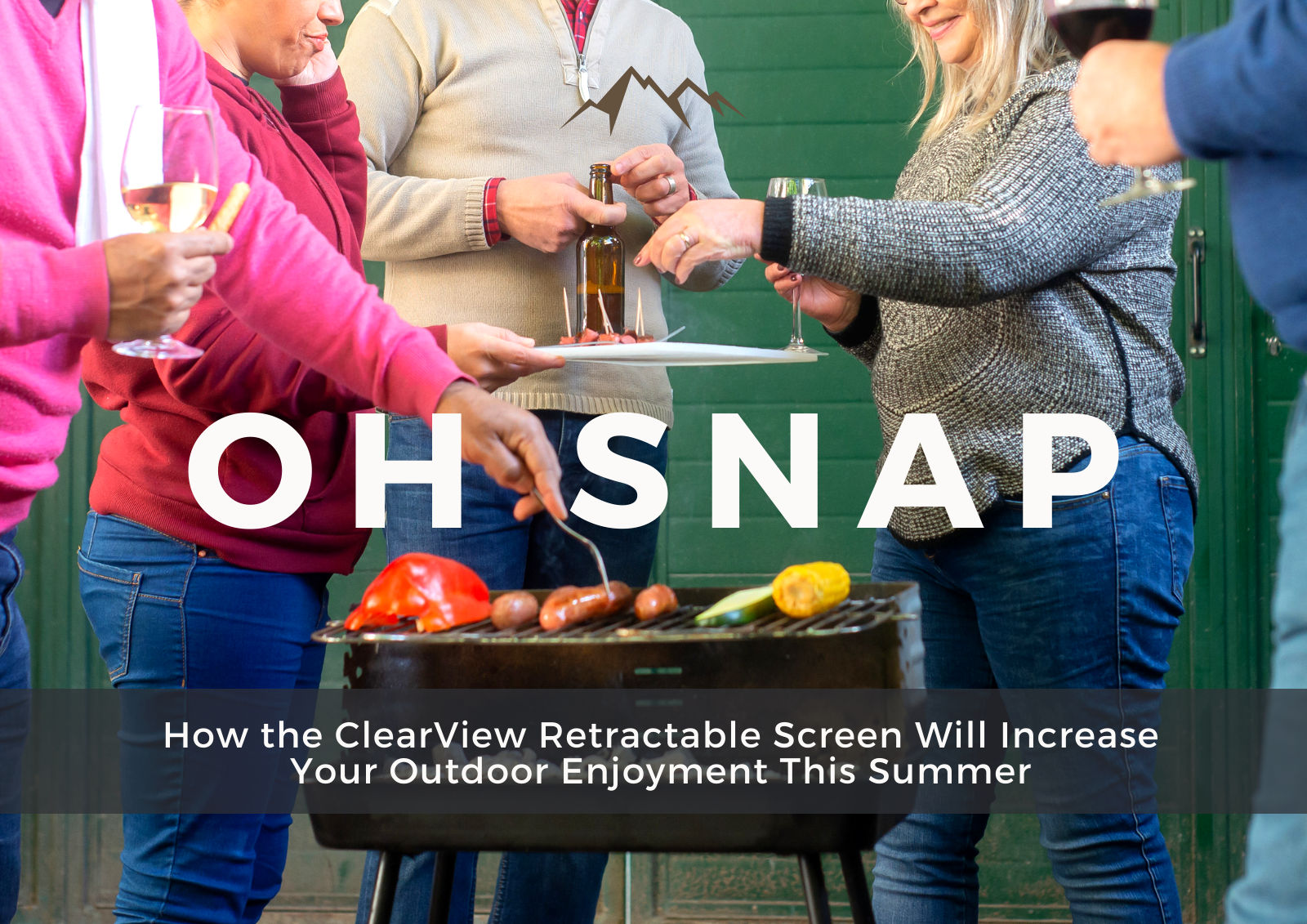 Canadians know how to enjoy the great outdoors in all types of weather. We're famous for turning the frozen north into a winter playground. We're proud of our resilience, but when summer comes around, and we don't have to bundle up to survive our outdoor patios, we take those balmy days very seriously. So having the best quality, safe, and reliable retractable screen door is an absolute must. Do not stand between Canadians and their short-lived summer!
We look forward to these days, and we want to make the most of them. We want our outdoor spaces to become an extension of our homes. We relish the chance to plant flowers, cook outside, and spend time with our family and friends enjoying the sunny days in our screen rooms. Our lawns and patios become places to enjoy the outdoors in solitude or with loved ones. It's good for our health!
Picture this: you're enjoying the warm weather with a house full of guests. You're having a great time; the grill is hot, and the evening sky is still light. Everyone is relaxed. You've shaken off the chill of winter, and it's time to gather outdoors. Suddenly someone lets go of the handle of your retractable screen and CRACK! It snaps back. Everyone jumps. Ugh!
"Don't worry about it!" you call. "It happens all the time."
A Retractable Screen Shouldn't Make You Jump.
It doesn't have to happen all the time! A retractable screen shouldn't make you jump. It's there to improve your home's comfort and function, not set your nerves on edge. Many of our customers are surprised to discover that our invisible screens are different!
Patented Safe Glide Technology.
ClearView Retractable Screens developed its patented Safe Glide technology with your safety and comfort in mind. Our screens don't snap back! As a result, you don't have to guide the screen back into the housing. Instead, it glides smoothly, on its own, with no jarring SNAP.
(Learn more about our retractable screen options here)
How Does The ClearView Retractable Screen Work?
In 2001, the engineers at ClearView set out to design a retractable screen that addressed problems they saw in all retractable screens on the market. They recognized that people hated the shock – and potential injury — that came with an untethered return of the screen into its housing. Surely there was a better way, a safer and more enjoyable way to use a retractable screen. Enter ClearView Retractable Screens with our patented Safe Glide system. Our speed-reducing damper slows the spring that controls the return of the screen. Fast enough to let you walk through; slow enough to be safe and quiet.
Now homeowners have a better option for improving their home comfort. And they haven't been shy in their enthusiasm. The Soft Close (Safe Glide) feature of a ClearView Retractable Screen is one of its most popular qualities. Customers are surprised by the difference it makes in the enjoyment of their screens. The simple act of moving through a doorway doesn't require extra care and attention. Homeowners appreciate the ease of use.
What Are the Benefits of the Soft Glide System?
Our customers notice the feel of the controlled return when they use their new ClearView Retractable Screen. It's easy to use and glides smoothly into the housing. But there are additional benefits our customers come to appreciate. A smooth and controlled return prevents premature wearing of mesh. It's hard on a mesh to be repeatedly slammed back into its housing. Mesh that flies back unrestrained tends to fold over itself as it enters the housing. The folded mesh acts like folded paper: creases remain, and the structural integrity of the mesh is compromised.
Our Safe Glide system, paired with superior design and materials, can increase the longevity of your mesh. This means you get more enjoyment out of your investment.
In addition, you don't have to use your hand to guide it back into the housing slowly. Simply release the magnetic catch by pushing or pulling on the handle, and it will smoothly return on its own. Your hands are free to balance all the other items that accompany your life: cool drinks, your morning coffee, a platter for the grill, sports equipment, recycling – "hands-free" is easier because your hands are full already.
Exceptional Warranty for Your Screen Door.
No other retractable screen company has developed a successful soft close system. At Screen Experts, we're so confident in our speed-reducing system that every ClearView Retractable Screen includes a lifetime warranty on its soft close damper. This gives you peace of mind that, should you or a loved one let go of the handle, you won't be in for a nasty shock – and your door is warrantied against the failure of its Safe Glide feature.
Our trained technicians will come to your home and measure your doorway in a free consultation. You can sample the Safe Glide technology for yourself and see its difference. With ClearView Retractable Screens, trying is believing!
(Ask for a free quote on your new screen door)
Don't let your guests or family worry that they've broken your screen door. Instead, keep your hands free and enjoy the satisfaction of knowing your retractable screen is protected against unnecessary wear and tear. You've chosen to look for a screen door that optimizes the seamless flow of interior to outdoor space. You want an unobstructed view, not blocked by a traditional storm door. You want to let the fresh air in, not the bugs. Now add the safety and quality that comes with a ClearView Retractable Screen that won't snap back!
Make the Most of Your Investment with Free In-Home Consultations from Screen Experts.
Contact us today and let us know what you are looking for. We will take care of the rest! From a free in-home consultation to the custom-built and installed products you choose, Screen Experts is the authorized dealer of ClearView Retractable Screens in Canada. With over 20 years of experience in the Canadian market (and climate!), we are passionately committed to quality products, quality workmanship and customer care that is second to none.
Join an ever-growing set of satisfied customers who have experienced the difference of working with Screen Experts. Let us help you create a comfortable home environment to enjoy for years to come!